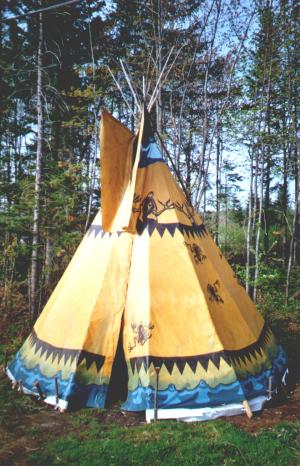 A right door teepee.
The liner is longer than the outside teepee fabrics to insulate from draught.
Contrary to what everyone could think, the teepee has not been used by Quebec Natives.
The teepee is indeed a native housing which origins are in the West of Canada and United States. In Quebec, Native people used wigwams, longhouses, innus tents and round wood houses.
Passion of the public towards this kind of housing makes that we can now find it in many private and public places.
The teepee is a kind of housing that is the nearest of nature and everyone can use it. It can be used as an extra room at a chalet, at a forest camp, as camping, for touristic housing as in Bed & Breakfast, at outfitter establishments or as a meditation place.
With its chimney and smoke flaps, you make fire in the teepee with no fear of being smoked. The teepee is then a very nice place to spend time even in winter.
During summer, the teepee stays cool inside at the contrary of a camping tent, for example.